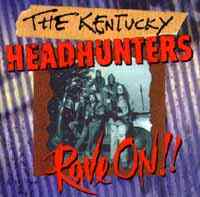 Rave On!!
1. Dixie Fried
2. Just Ask Fo' Lucy
3. Honky Tonk Walkin'
4. Redneck Girl
5. Dizzy Miss Daisy
6. Celina Tennessee
7. The Ghost Of Hank Williams
8. Freedom Stomp
9. Muddy Water
10. My Gal
11. Blue Moon Of Kentucky
12. Underground






"Thanks" to all the Louisville groups of the '60's for the inspiration; To WKLO, WAKY, WLRS, & the Kentucky music scene today. Shine On!!
Frank Bugbee: Yeah, It's your fault!! You're a big influence and a great musician.

All Songs Produced and Arranged by The Kentucky HeadHunters
Executive Producer: Mitchell Fox
Recorded and Mixed by Mike Bradley at The Soundshop in Nashville, Tennessee